How to Become an Online Casino Agent or Affiliate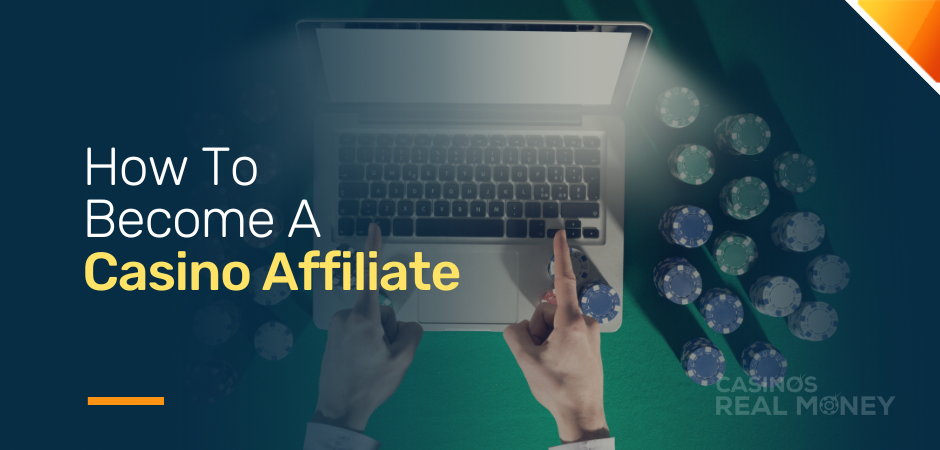 Becoming an agent or associate for an online casino may be a great way to earn money via commissions by promoting different gambling sites. Now more than ever, affiliates and agents are essential to the success of online gambling and sports betting platforms.
Many people are interested in becoming affiliates for online casinos and gambling sites because of the potential for high earnings. However, the prospect might be somewhat intimidating if you've never done it before. If you are in this predicament, know that you are not alone. So, let's break it down.
How to Affiliate An Online Casino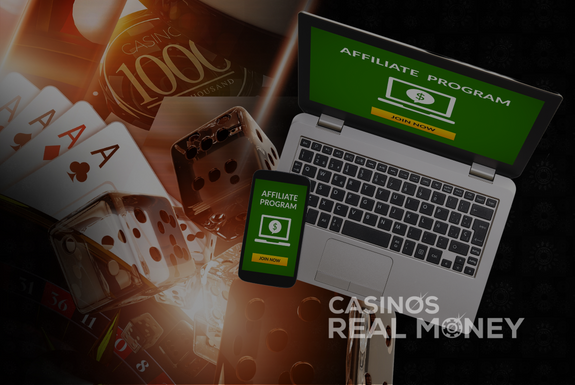 A standard feature of every modern iGaming platform, affiliate management systems facilitates the development of a vast affiliate network to expand exposure to the brand and draw in new players. Thankfully, they've made it very easy to get started, even for the average internet entrepreneur.
The following is in-depth breakdown of each step required to become an agent or affiliate for an online casino:
Learn about the many names in the online casino industry, and decide which to associate with. Factor in elements such as the brand's legitimacy, quality of the products or services offered, as well as the structure of the affiliate network.
Research the affiliate program offered by the online casino you have decided to work with. Many gaming company websites include a special affiliates section where you can get information on how to sign up as an affiliate. Check the compensation plan, promotional tools, and the terms and conditions.
Follow the prompts on the affiliate page to enroll and set up your account to start marketing their offerings. As part of the process, you may be asked to submit details, including basic contact and identity information.
Assuming your application is approved, you will be granted an affiliate link (or links) to start promoting the online casino. These Links may be used to track the performance of your ads and determine your affiliate earnings.
You can promote the online casino by creating a website or spreading the word on social media. You will be free to utilize all marketing materials provided by the online casino. This can include, text links, banner ads, and other promotional tools, while promoting the offers. Remember that online casino promotions are more likely to succeed if they are designed with the target audience in mind.
Use the affiliate program's dashboard to monitor your promotions and profits. Tracking the number of impressions your advertisements received and the amount of money made in commission is a breeze with this handy tool. Putting this data to use will allow you to execute more lucrative campaigns.
Getting creative is essential. Marketing the online casino consistently and trying out different marketing forms can increase your revenue. There is a higher chance of success if you advertise many online casinos.
Make sure to be transparent about your affiliate status in marketing materials. This encourages compliance with advertising standards and to protects your reputation. Also, always ensure you act according to the law and the affiliate program's terms and conditions.
Top Casino Affiliate Programs
While there are many affiliate programs out there, not all of them are made equal. This article will introduce you to a few of the most successful affiliate schemes currently accessible online.
Those who want to advertise BetOnline.ag and Sportsbetting.ag will find that CommissionKings is the best affiliate program. In addition to charging no registration costs, they also provide an unrivaled lifetime commission rate of up to 35%. CommissionKings is one of the few programs that pay out monthly. So, no wait for your money; you can start spending it immediately.
CommissionKings doesn't stop at offering great commission rates and payouts; they also provide their affiliates with a treasure trove of resources. They ensure you have everything you need to succeed, from free content for your site to comprehensive tracking and reporting accessible 24/7.
It also stands out because it emphasizes affiliates' privacy and openness. CommissionKings guarantees the security of your personal and financial data. The platform will never share that data with third parties without your knowledge or consent. Users may also be confident that they are receiving a fair bargain because of their commitment to transparency in all their business relationships with their partners.
Casino/Slots Affiliate Commission Plan
| Revenue Share | Requirement |
| --- | --- |
| 10% | Less than 3 RMP1 in 6 months |
| 25% | $0 – $10,000 NGR2 |
| 30% | $10,001 – $25,000 NGR |
| 35% | $25,001 – $40,000 NGR |
| 40% | $40,001 – $50,000 NGR |
| 45% | $50,000 NGR and upwards |
1 RMP = "Real Money Players" (any players that deposit real money)
2 NGR ="Net Gaming Revenue" (any money players lose, before processing fees)
Sportsbooks Affiliate Commission Plan
| Revenue Share | Requirement |
| --- | --- |
| 10% | Less than 3 RMP in 6 months |
| 20% | $0 – $7,500 NGR |
| 25% | $7,500 – $15,000 NGR |
| 30% | $15,001 – $25,000 NGR |
| 35% | $25,001 NGR and upwards |
The Revenue Network, known initially as Betting Partner, is the official casino affiliate network that promotes some top-rated online casinos. These casinos include Bovada Casino and Joe Fortune Casino.
As part of this program, affiliates will get a monthly commission based on a percentage of their players' net income from wagering at the casino. To get the best deal possible, it's advisable to talk to an affiliate manager about the specifics of the commission structure. The absence of a negative carryover also works in favor of the program. This implies that you will start again at the beginning of each month, even if you ended the previous month with a loss.
To provide its affiliates with unlimited access to detailed statistical figures, Revenue Network uses proprietary software that can be accessed at the click of a button. Earnings progress toward program objectives. The schedule and manner of distributing affiliate income are available for affiliates to view in real-time.
| Revenue Share | Requirements |
| --- | --- |
| 25% | $0 – $10,000 |
| 30% | $10,000.01 – $40,000 |
| 35% | $40,000.01 – $50,000 |
| 35% and 45% for casino NGR | $50,000.01 and up |
Revenue Network affiliate commission plan
Among the many things RevMasters is proud of is its position as a frontrunner among worldwide online gaming promotion services. With an eye on providing its sportsbook and casino partners with only the best quality, innovation, and service. The company is always looking for ways to hone its offering. It is easy and cost-free to become a RevMasters affiliate; once the necessary marketing tools have been installed on your website, commissions will begin to accrue automatically.
Since its inception, RevMasters Affiliates has been committed to transparent and open communication. They also offer attractive financial incentives to its affiliates. Potential perks for affiliates include a large lifetime percentage of sales, a choice between a commission-based and hybrid compensation model, and timely distribution of incentive earnings.
In addition, it provides each affiliate with access to a personal VIP affiliate manager who sees that everything goes well and provides assistance when necessary. If you have questions or concerns, the RevMasters global customer support staff is available around the clock, seven days a week.
| Revenue Share | Requirement |
| --- | --- |
| 20% | $0 – $9,999 |
| 25% | $10,000 – $14,999 |
| 30% | $15,000 – $24,000 |
| 35% | $25,000+ |
Rev Masters affiliate commission plan
WebPartners.co is a fully integrated, performance-based marketing network that provides affiliates with the ability to earn commissions on the income generated by five different brands of sportsbook, casino, and racebook products. These include some of the most well-known names in the online gambling market, such as MyBookie.ag, XBet.ag, BUSR.ag, MYBcasino.ag, and BigSpinCasino.com, among others.
All of WebPartners' affiliates have easy access to WebPartners' original, highly-effective marketing materials and campaigns. Affiliates that do exceptionally well are given access to unique promotions and discount coupons that may be shared only with their subscribers. CPA, revenue-share, and hybrid compensation models are all featured in various Affiliate programs. The payment conditions are net 30, which are paid monthly on time.
Most affiliates choose to participate in the company's 4-tiered revenue sharing scheme since it boosts their monthly earnings. As the income generated by the players referred by an affiliate increases, the revenue will trickle up to the referring affiliate. Regrettably, there is a negative carryover in this affiliate program.
| Revenue Share | Requirement |
| --- | --- |
| 25% | $1 – $9,999 |
| 27% | $10,000 – $19,999 |
| 30% | $20,000 – $29,000 |
| 35% | $30,000+ |
Web Partners affiliate commission plan
If you want to make money by referring people to online games, Deckmedia Affiliates is a fantastic program. Benefits include a reasonable compensation structure, responsive customer service, and reliable, up-to-the-minute data tracking. Additionally, people interested in learning more about their own and referral's success will appreciate the comprehensive reports and fully-fledged transparency.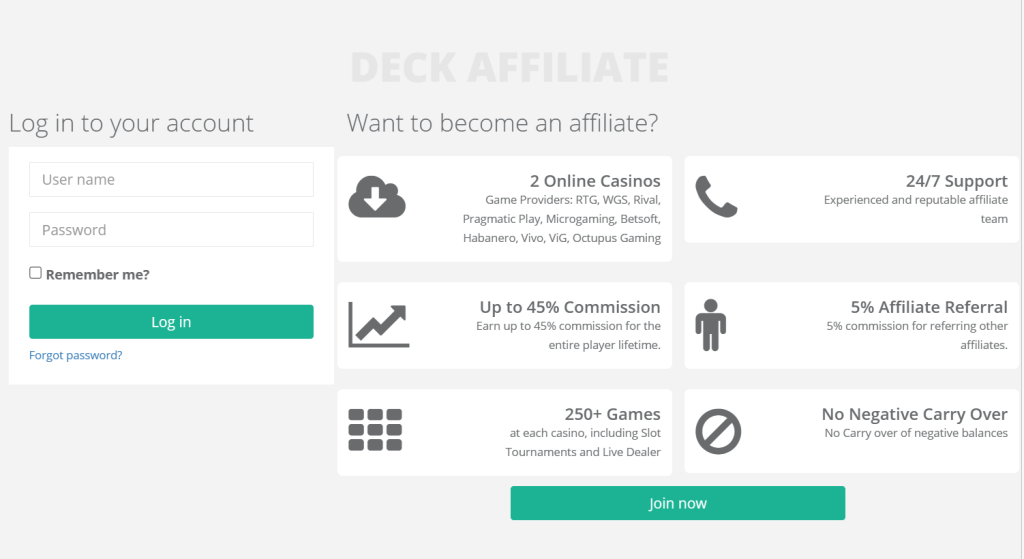 Among the highest market rates, affiliates may earn up to 45% of sales. Monthly payments are reliably completed on the first of the month. It's also wonderful that they include a birthday present! Deckmedia Affiliates also has impressive real-time statistics, which are updated often. Affiliates can keep tabs on how well their links are doing in real-time thanks to these metrics, which may be helpful when fine-tuning the program.
Users can also count on one-on-one support from a real person; a massive boon when trying to figure out how to use the program. In addition, affiliates will never be in a bind since negative balances do not accumulate from one period to the next.
The Everygame affiliate program offers affiliates a terrific opportunity to earn substantial revenue from their site's traffic over the long run. A large variety of products, including sportsbooks, casinos, and poker, means that affiliates may expect high average player lifetimes and player value. One of the program's most substantial benefits is its generous commission.
The reporting mechanism provided by Everygame is also quite helpful since it allows affiliates to track their performance and optimize their web profiles accordingly. There are professional-quality marketing resources included in the program as well.
A referral system also pays commission to affiliates who bring in new affiliates. This makes it easy to set up a system of affiliates, which, if done correctly, may increase income potential substantially. Last but not least, Everygame affiliate staff are known to be very helpful and open to implementing even the most outlandish suggestions to maximize your profits.
| Revenue Share | Requirement |
| --- | --- |
| 20$ | $1 – $20,000 |
| 25% | $20,001 – $30,000 |
| 30% | $30,001 – $40,000 |
| 35% | $40,001+ |
Everygame affiliates commission plan
To join the gaming affiliate industry, the Mainstreet Affiliate Program is one other highly recommended option. The program's exclusion of negative carryover and bundling is particularly attractive since it guarantees affiliates a stable income regardless of their overall performance in the past.
Affiliates are attracted to Mainstreet because of the generous compensation rate of 40% of total income for a player's lifetime. Even more exciting is the fact that there is no maximum income in the Mainstreet Affiliate Program, so affiliates have the chance to make as much money as they can. This is the real deal: a passive income stream with no catch.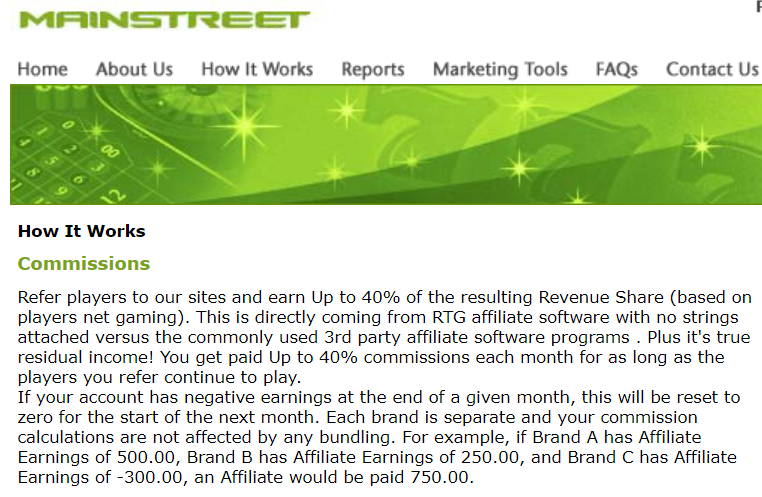 Payments are processed promptly on the 5th of every month, and the program ensures fair play, accurate odds, and honest dealings. As a bonus, the service provides affiliates with detailed data on website activity. They also include information on advertising effectiveness, player accounts, and more. This allows them to track and boost their earnings.
Summary
It is possible to make a good living by participating in affiliate programs provided by online casinos. However, always do your homework and read the fine print before signing up. Fair play, correct odds, no negative carryover or bundling, no profit restrictions, higher commission rates, quicker payouts, and clear monitoring tools are all features you should search for in a program.