How To Deal Blackjack Games: 8 Simple Steps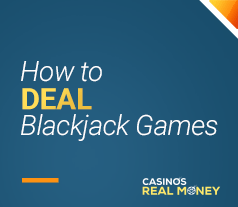 When it comes to blackjack, the house always comes out on top in the long run, just as it does with most other casino games. Of course, having a good strategy is one of the best ways to increase your chances of winning against the house. However, there is no assurance of success. The only thing that can top the excitement of playing blackjack is if you take on the role of blackjack dealing.
Turning the tables and working as a dealer at a casino is a great way of being on the winning side. Although learning how to play blackjack is simple, being an expert dealer is a little more challenging.
You'll need to act like a player while still managing the game.
One does not, however, need to be a skilled or professional croupier to deal blackjack. With the help of a simple guide, any player may become a blackjack dealer who can keep the game afloat with ease and still enjoy it.
How to Deal in Blackjack
Once you are seated at a table, the following are the blackjack dealer rules for how to deal blackjack games as a dealer:
First, the cards should be shuffled and cut using a variety of procedures, such as riffle or overhand shuffles, to guarantee randomness.
The next step is to have the players make their wagers before the dealing begins.
Starting from the left, deal each player one card face-up.
Deal one card, face down, in front of you, in the box designated for the dealer.
Continue by dealing the second card facing up, to each of the participants in the game.
After that, place one card, face up, in front of you. Ask players whether they want insurance if your upcard is an Ace.
If your upcard is not an Ace, address other options like splitting, doubling down, hitting, or standing while play proceeds as usual.
After all the players have completed their hands, it is the dealer's turn. Flip over the face-down card and confirm the hand's value, thereby completing the round.
It really is that simple.
After getting some experience dealing blackjack games under your belt, being a dealer will become a lot more fun than it would have seemed when you first started out still learning the above dealer rules for blackjack.
How Much Do Blackjack Dealers Make?

An average week or month's income for most blackjack dealers is decided by how many hours they put in. That is because most of them work hourly contracts.
It is almost like being a bartender or a delivery driver.
As such, it is reasonable to assume tips from customers have a greater influence on your monthly income than the hourly rates if you are a blackjack dealer.
Blackjack Dealer Salary
Depending on where you work and how much experience you have, the salary for a blackjack dealer may reach as high as $100,000 or even more. This factors in the base salary as well as the tips. In most regions of the globe, you may anticipate earning roughly $15,000 as a dealer per forty-hour work week.
Those who want to make more money dealing blackjack may also try their luck at the higher stakes tables, which provide more money overall. When you operate high-stake VIP tables, the casino will pay you a much more commission than the dealers who deal with casual or low-stake clientele.
As a blackjack dealer, know that you'll always have opportunities for growth and a higher salary.
To make more money, you need to keep working on your talents and keep learning.
Additionally, as a skilled blackjack dealer, you should be able to discern the personalities of the people that show up at your table. Having good social skills is essential to the experience (and the remuneration).
How to Be a Blackjack Dealer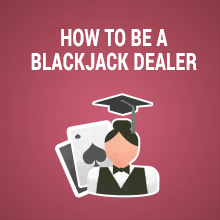 If you want to work in the gaming industry as a professional dealer, you will need more than just a love for the game to serve as a dealer! Specialized skills or abilities help you stand out from other candidates and ultimately get a job.
A respectable high school or equivalent level mathematics grade is all that most companies are looking for. Still, you may enroll in a specialized course if you want to advance your career as a true professional dealer. In most casinos, dealers are given on-the-job training on how to properly deal cards. This might vary slightly as different casinos will have different operational standards.
If you can think critically and have a kind disposition, you will certainly have a leg up on the competition. Moreover, you must have a strong ability to converse with the guests, but at the same time, you must always maintain your composure no matter what happens.
What Advantage Does the Dealer Have in Blackjack?
As a blackjack dealer, you do not necessarily need a college degree to get started. It's a lot easier to get started in this field than it is elsewhere. When it comes to working at the casino, you can generally get your foot in the door after a few months and a little investment.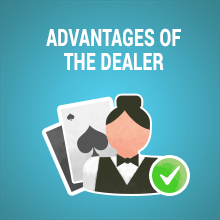 Dealing in a casino can also be ideal if you like working late into the night or want to "moonlight" as a second income. Because most casinos operate around the clock, this is an incredible chance for you to put your spare time to good use.
Every large casino is owned by a business that has a human resources department to support it. As a result, you may be eligible for a benefits package that includes health insurance, a pension, and paid time off. All operators have their own unique methods for calculating these compensation rates; yet, they may provide a wonderful feeling of financial stability for employees.
To top it all off, the casino industry offers the chance for professional advancement as well. As long as a dealer performs their job well, they may be promoted to floor manager. This is a great opportunity for those who have a strong desire to work in the casino industry to become gaming managers or casino managers, who oversee all gaming personnel in the casino.
In addition, as a dealer, you may travel the globe at a fraction of the expense you would otherwise incur. That is because there are cruise ships and casinos in exotic locales where you may work.
The Challenges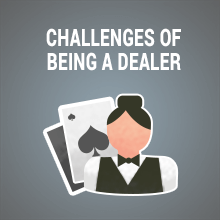 Being a blackjack dealer may have its share of difficulties, just like any other career. As an example, the remuneration may not be enough based on the size of the casino itself. Starting salaries, for instance, are likely to be lower than those of more experienced workers.
Although interacting with clients may be the most rewarding part of your career, it can also be the most challenging aspect of it. This is particularly true in the gaming sector, where the stakes are high and emotions often run high.
The shifts and working hours can also be quite long. Most dealers have found ways of coping and adjusting but it is still worth keeping in mind if you are thinking about becoming one. In some countries, dealers are usually required to have a license. These often take time to obtain and could come with a cost implication.