Popular Blackjack Variants You Should Know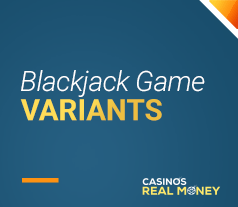 At first glance, blackjack seems to be one of the most straightforward online casino games. A lot of variants are available, as is the case with most other casino games. With so many options available, players should get acquainted with the subtle variations between each kind.
Blackjack games played online are constantly being updated with new versions. If you want to know which of these games are worth your time and money, you need to be able to tell them apart properly. With this guide, we want to demystify the world of online blackjack games and assist you in finding your way around.
That said, what better way is there to do this than starting with the most popular variants?
Classic or American Blackjack

Many people like playing classic blackjack because of its simplicity and long history of success in casinos all around the globe. This is because the rules are so straightforward. To begin with, dealers get their hole cards before other players have a chance to make any judgments regarding their own hands in American Blackjack.
The objective of the game is to get as near to 21 as possible. A player may "hit" for one more card or "stand," depending on whether they believe they have a winning hand or are in danger of going bust. In addition to this, if you play classic blackjack using a solid strategy, the house advantage may be brought down to an extraordinarily low 0.5 percent.
European Blackjack

The chances of winning in European blackjack are a hair better than those of winning at American blackjack. To begin, a standard game of European blackjack uses two decks of cards rather than one. This implies that the cards may be predicted more accurately than in other variants. The dealers must also stand on a soft 17, which is a plus for the players.
With this variation, the dealer does not get his hole card until the player has made a decision based on the cards given to him. When playing European blackjack, the dealer is not allowed to peek or surrender.
Spanish Blackjack

Spanish Blackjack or 'Spanish 21 is one of the most popular alternatives to classic blackjack. This is a game that may be found at a variety of gaming establishments, both brick-and-mortar and online. You have an advantage as a player since many of these rules may be interpreted in either direction. Case in point, you can win on a 21 instead of having the game end in a push if the dealer also has 21.
The absence of 10s in the deck is the primary characteristic that differentiates Spanish 21 vs blackjack variants you can otherwise play. The fewer cards that have a value of 10 there are in the deck, the greater of an edge the dealer will have. It is a more relaxed version overall, and some of the rules have been altered to make things easier for you. You have greater leeway to double down and divide your cards while playing these games.
Blackjack Switch

Blackjack switch is a new take on blackjack that has just recently emerged on the scene – it is just a little over a decade older. The main tenet of the game is that you play with two hands rather than one. When you have both of your hands, you may swap cards between them and potentially make them better.
That flexibility comes at a price, however. As opposed to being a victory for the player as it would be in traditional blackjack, the hand is a "push" if the dealer busts with a score of 22. The situation is made further worse by the fact that the payout is 1:1 for a game that may be played with either six or eight decks.
Free Bet Blackjack

What is 'Free Bet' blackjack? Simply put, when splitting or going all-in on a hand in Freebet blackjack, players do not have to risk any more money. Players get one free double down and split every hand from the dealer! Both the initial stake and the "Free Bet" wager will be paid out if the hand is successful. The player only loses their initial wager if the hand is lost. The drawback is that if the dealer busts with a score of 22, the game is a "push" and the player is out of the game.
Multihand Blackjack

Players have the option to play many hands of blackjack at a go with multi-hand blackjack. The most preferred title of choice is often classic blackjack. The maximum number of hands that may be played at once varies depending on the variant of the game or the casino one is playing at.
All in all, it is a good strategy since it provides more chances for players to win. It is also a means for players to protect themselves from potential losses. Multi-hand blackjack may be even more profitable for players who use advanced strategies to improve their odds.
No Bust Blackjack

This is a variation of traditional blackjack that enjoys a considerable amount of popularity across the United States. Here, an extra set of rules known as "No Bust" allows players to win even if their hands are broken, so long as their totals are lower than the dealer's busted one. Since the no-bust method does not involve counting cards, even inexperienced players should have no trouble putting it into practice.
Stadium Blackjack

Think the game cannot get any more fun than it already is? It is possible to play blackjack in a stadium-like setting, with up to 44 computerized player terminals spaced out over the field. That's what Stadium blackjack is all about. There are no predetermined odds in this game; instead, a live dealer uses community cards to reconcile all the player bets.
The distinctive feature of Stadium Blackjack is that all active players begin with identical starting hands against the dealer's 'up' card. A round's ultimate result might vary depending on each player's final hand and the dealer's final hand, due to how community cards are allocated.
Perfect Pairs Blackjack

The game is played according to the same rules as traditional blackjack, with the exception that players are allowed to enjoy an extra betting option. That is, the players get to participate in an additional side bet at the beginning of each hand. In this additional wager, you are gambling on whether the first two cards you are given will both have the same number on them.
Vegas Strip Blackjack

As its name suggests, Vegas Strip Blackjack. gets its name from the location where it's played. With the primary goal and most of the rules remaining the same, it is nearly similar to American blackjack with a slight difference. American blackjack allows the dealer to peek only if his up card is either an ace or a 10. In this game, however, the dealer may peek only if the ace they are holding is their first 'up' card.
Atlantic City Blackjack

When playing blackjack in Atlantic City, players may double down on any two cards and split up to three times. The aces, on the other hand, are exempt from this rule. Splitting Aces only gives the player one card.
Hence, they can only be used once in the game.
Players are allowed to split two hands containing 10-point cards, which is another characteristic that sets Atlantic City Blackjack different from its rivals.
Progressive Blackjack

The rules of progressive blackjack are the same as those of standard blackjack. In addition to the standard bets, participants have the option of placing a side bet as well. It pays out if the first card dealt to a player is an ace. Players that have both aces in their first two cards will earn a larger payoff. Two aces that are suited will receive an even larger payout. It is possible to win the progressive jackpot by getting four consecutive suited aces dealt to you in a hand.
Live Dealer Blackjack

The opportunity to test out concepts that would only work in a live online casino makes the live dealer market incredibly intriguing for developers. Blackjack was among the original live dealer games, and it's still among the finest since playing it at an online live casino seems so natural. Playing blackjack online is extremely close to playing in a brick-and-mortar casino.
Face Up 21

In this variant of the card game, the dealer starts with two cards that are exposed to the player. The ability for gamblers to observe two cards instead of just one during the whole of a hand is very beneficial to them. When some of the advantages enjoyed by the house are removed, the players' odds go up significantly.
Regrettably, a dealer will hit on a soft 17, therefore a dealer blackjack will always win against a player blackjack. Furthermore, blackjack only pays even money. The advantage enjoyed by the house is just 0.69 percent, which is also quite disappointing.
Which Variant Best Suits You?
These are some of the most well-liked blackjack versions that are currently available. Each of them has been accepted and admired by gamblers from all over the globe. The main determinants of which one is best for you are your gaming preferences and personal preferences, provided you have a reputed and reliable casino to play online Blackjack on. Since the rules of each game vary in one way or the other, you should choose the one with the best rules.