Blackjack Tips and Tricks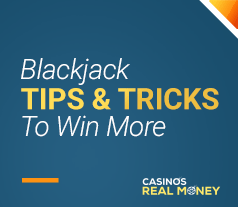 The fundamentals of blackjack are straightforward and not too complicated to learn. You will, however, require a greater grasp of the complexities of the game as well as the etiquette of the game before you can make the most out of the experience.
Nevertheless, while there are no blackjack secrets that will turn your game around overnight, there is always an opportunity for improvement, regardless of how skilled you already are.
List of 8 Important Blackjack Tips
Here are some helpful tips for blackjack that, if you put them into practice, can significantly improve your odds of coming out on top while playing blackjack for real money or free:
Choose a Table Strategically

The first step in playing blackjack is to choose a seat at the table. At a blackjack table, the number of players might range anywhere from five to seven at a time. You'd be better off choosing a table with as many players as possible on your first visit to the tables. With fewer people at a table, the game progresses at a much faster pace than with a larger number of players.
An overcrowded table allows you to focus on your game and not feel hurried or under any time constraints.
Additionally, it's best if the casino uses fewer decks since the chances of winning increase if you find a game that uses a small number. To limit the ability of card counters to gain an advantage, most casinos across the world now utilize six or more decks.
The casino with the best odds should be your first choice.
Master and Employ a Blackjack Strategy

It goes without saying that mastering the basics is a must for moving on to more challenging gaming. This helps you to get a handle on which moves to make while you are in the middle of the game. If you make the proper action at the appropriate time, you may reduce the house's edge significantly.
If you find that you are having problems recalling the basic strategy, write them down.
Customers at a lot of casinos are even allowed to make use of strategy cards. You may print those out and keep them on hand for if or when the occasion to use them comes.
The more you play, the more tactics and hacks you will learn from other players, so don't worry if you cannot come up with your own strategy right away. Some of the strategy tips, on the other hand, are timeless in their appeal. You should always stick to the basic strategy and avoid basing decisions on previous hands or the decisions of other players.
One classic strategy design you can start is:
When the dealer has 2-6 and you have 12-16, you should stand.
When the dealer has 7-Ace and you have a hand of 12-16, you should hit.
Aces and 8s should always be split.
If the dealer has a 2-10 hand, double 11.
The Aces-6 may be hit or doubled
Avoid the Insurance Bet

When it comes to insurance, the chances seem to be stacked against you. By making this choice, the house gains an advantage.
The initial wager is all that matters even if you win the blackjack hand. And if you and the dealer both have blackjack, then neither of you will walk away with any money.
The payout for a successful insurance bet is 2-1, but the chances of winning are much lower.
Keep an Eye on the 'Up' Card

The dealer's face-up card strongly influences player decisions. If you decide to hit, stand, or double down your moves must be based on this card for the best possible outcome.
Always remember to take a quick look at the up card before you make any moves.
If the number is between 2 and 6, it's not going to be simple. However, if the card is between 7 and Ace, take advantage of this chance if you have a good hand.
Start Small

Check out the table's minimum and maximum betting limits before you commit to a certain game. These predetermined wagering limits are in place at every table. Find the table in the casino with the lowest required bet and start playing there if you are just getting started.
A strategy that keeps you out of danger until you have a better understanding of the game is to make bets with a lower stake.
Practice Proper Bankroll Management

You need to establish daily wagering limitations for yourself regardless of whether you are a novice or an experienced player. Betting in moderation is a fundamental approach that should be used across the board for all casino games.
The key to both short-term and long-term success in blackjack is to play within the limits of your bankroll as well as the unit limits you established before beginning a blackjack session.
Choose Your Preferred Blackjack Wisely

It is a good idea for newcomers to familiarize themselves with the rules and play the four most popular varieties of online blackjack.
Always play blackjack in a format you are most familiar with.
Whatever your preferred kind of blackjack may be, select one and master it to the best of your ability. As you progress in the game, it's natural to want to become an expert in several genres. That necessitates an awareness of the nuances between all those versions.
Know When To Quit

Whether you are currently on a winning streak or wallowing in a losing streak, quitting may be a very helpful piece of advice. If you are already losing, continuing to play will just increase the likelihood that you will lose more than you most likely ought to have.
If you are successful up to this point, quitting is still an option. If you do so, you will, at the very least, be able to retain some of your profits and won't end up losing everything.
Which Is the Best Tip?
Not only can you enhance your game with the aid of these helpful hints, but you can also increase your chances of winning. Despite this, there is no guarantee of success, just as it is with any other kind of gambling.
Naturally, players always figure out how to incorporate this into their gaming to get the best possible outcomes. Optimal play and application of these strategies or tips is the best way to get the most out of the blackjack experience.