Guide to Blackjack Tournaments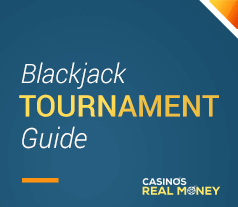 Blackjack played at a standard casino table pits the gambler against the dealer in a one-on-one confrontation. Tournaments, on the other hand, are distinct in that the player will be competing against other players seated at the table where the game is being played.
Blackjack tournaments are fantastic if you like to play the game more competitively. However, due to this fundamental distinction between standard blackjack and tournaments, your strategy for playing will need to change.
There has been a recent uptick in the number of blackjack tournaments provided by a variety of casinos. Enjoyable as they may be, you should arm yourself with a solid knowledge of tournament blackjack before participating.
Why Are Tournaments So Popular?
Participating in a tournament is a great opportunity to earn some extra cash. Prizes may be anything from a little sum to a substantial sum, perhaps a life-changing amount, depending on the size of the pot. Typically, your chances of winning are far higher than they would be in a standard blackjack game. Also, the benefits a player may earn from an online casino tip the scales in their favor. That is a dream come true for every gambler.
They are thrilling in their own right as well. Blackjack tournaments provide a unique and unforgettable vibe that can't be found anywhere else.
How Blackjack Tournaments Work
To differentiate itself, every casino may have its own set of guidelines for its tournaments. Accordingly, it is crucial to double-check the website or location to learn the rules of the competition. However, for the most part, every blackjack tournament is played in the same way.
More often than not, each participant in the tournament will be required to pay a one-time entry fee to participate. The bulk of the entry money goes to the tournament's money pot, while the casino gets to keep a small cut. Every player at the tournament table plays the same number of hands and has the same starting bankroll.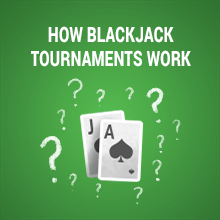 After each round, the player with the most chips is declared the winner and moves on to face the other table winners. If there are more than two players tied for most chips, sometimes the top two advance to the next stage. A big starting pool of players is narrowed down to a final table of six or seven for the final tournament round.
Ultimately, you want to finish each round with more chips than your opponents. In most tournaments, the top finishers get a larger percentage of the total prize pool than the other finishers do. To "finish in the money," or in the top three, is the goal of every player that registers for a tournament.
Blackjack Tournament Formats
It is safe to say that the basics of a blackjack tournament won't change much from one event to the next. You should be aware, however, that the regulations of each blackjack tournament may vary somewhat depending on the format you are participating in.
The blackjack tournaments are given special spins, challenges, or incentives thanks to various formats or variants.
Elimination Blackjack Tournaments
This is the gold standard of blackjack tournaments, so to speak. Every participant in an elimination blackjack tournament plays at a single table versus the other players at that table. Some of these tournaments allow you to re-enter the competition for a little cost. Those that emerge victorious from each round advance to the final table where they will face off against one another.
Accumulation Blackjack Tournaments
In this case, your mission is simple. You compete against the other players in the tournament head-to-head for the chance to win the most chips at the end of the tournament. A leader board allows all players to quickly and easily identify where they are in relation to the leaders and what they need to do to catch up to them.
Live-Money Blackjack Tournaments
Many tournaments employ decorative playing chips with no real money outside the tournament. Players in real-money events, on the other hand, must buy their chips and may only redeem them for cash after the game comes to an end. This means that it's your own money on the line if you go all-in with the maximum stake in a real-money event.
Sit 'n' Go Blackjack Tournaments (SNGs)
These tournaments are, in a nutshell, fast and timed competitions that begin as soon as the required number of competitors is present. For a game to begin, there must be at least six people. The aim is to win by obliterating as many of your opponents as you can in the shortest time possible!
Major Blackjack Tournaments
Large, multi-day blackjack tournaments often include more than a hundred players and provide thousands of dollars in prize money. Brick-and-mortar casinos often host these events over the course of a whole weekend.
Mini Blackjack Tournaments
Blackjack players may participate in mini-tournaments, which allow them to start the event and complete it within a single day. Both the entry fees and the rewards have been scaled down. The first reward is often something in the neighborhood of two thousand dollars. This is modest but still at par with the bankrolls of the players and the overall gaming atmosphere.
Satellite Blackjack Tournaments
To be clear, "Satellite Tournaments" are those that do not provide cash awards to the victors. Blackjack aficionados, on the other hand, often participate in these games to qualify for tournaments with greater prize pools.
Freeroll Blackjack Tournaments
These often do not need entrants to make a financial investment. Even if the prizes aren't as high as they would be in a typical blackjack tournament online, they're still enough to entice people to play. In an attempt to draw in new customers and keep the old ones coming back, casinos often hold events like these for their patrons.
Blackjack Tournament Strategy
Tournament blackjack is played using a different strategy than standard blackjack played in online and brick-and-mortar casinos. A more comprehensive strategy may be in order if you want to spend significant time competing in blackjack tournaments.
The game's outcome still hinges on each player's talent and familiarity with the rules. Still, numerous well-thought-out strategies are at your disposal. Most of these tips and tricks are public knowledge.
Practice With Free Rolls and Satellites

Practice is the best method to hone your abilities, just as it is with standard blackjack. If you want to win more often at online blackjack, you need to put in the time.
Playing in practice tournaments like free rolls and satellites is an excellent method to hone your abilities before jumping into the deep end of the tournament pool.
Get Acquainted With the Tournament Rules

When you have decided to join a tournament, you should familiarize yourself with its guidelines before beginning play.
Your best bet is to peruse the casino's website, but if you can't find the information there, don't feel bad about asking for them. Before beginning to play, you may, for example, inquire with the event organizers.
Know the Tournament's Buy-In

Every participant in most tournament formats must pay a buy-in fee. Full prize money refunds are the gold standard for events. Most players would agree that the finest tournaments are those that give back a hundred percent of the admission cost to the winners.
Always aim to compete in tournaments that pay back the winner something as close to the full buy-in amount in the pool as possible.
Apply Effective Bankroll Management
Your first few hands in a tournament call for careful bankroll management and strategic wagering. Making better, less risky bets from the get-go might be aided by reviewing some basic blackjack betting strategies.
Later on in the tournament, when you have more time and greater self-assurance, you may start taking more chances. Additionally, you have the option of being flexible with your betting strategies in the later stages of the tournament.
Adjust Your Gameplay Accordingly

It's common practice for online gambling establishments to present you with real-time information on things like leaderboards and chip counts.
Never let your guard down and do not focus too much on where you are in the tournament's rankings. You must instead make changes and wagers in light of whatever advantages you may have.
Protect what you have by adopting a more cautious approach if you are currently in a favorable position. On the flip side, you will want to take greater risks if you are in an unfavorable position.
Know When To Quit

It is exhilarating to participate in a tournament, particularly when the pot size grows to a significant amount.
Still, there's always the possibility of losing, so setting a cap is wise. It is time to call it quits if you find that you are losing a large amount of money and that this is having an effect on how you act or think.
Summary
As it is, blackjack is a worldwide phenomenon in the gambling industry. It is already an exciting game on its own, but when you add the possibility to compete against other players in tournaments, the stakes are raised to a whole new level.
Anyone unfamiliar with blackjack tournaments should feel a lot more prepared for their first one after reading this. That's all; you're ready to embark on a fantastic tournament adventure.