Casino Workers to Receive Sexual Harassment Panic Buttons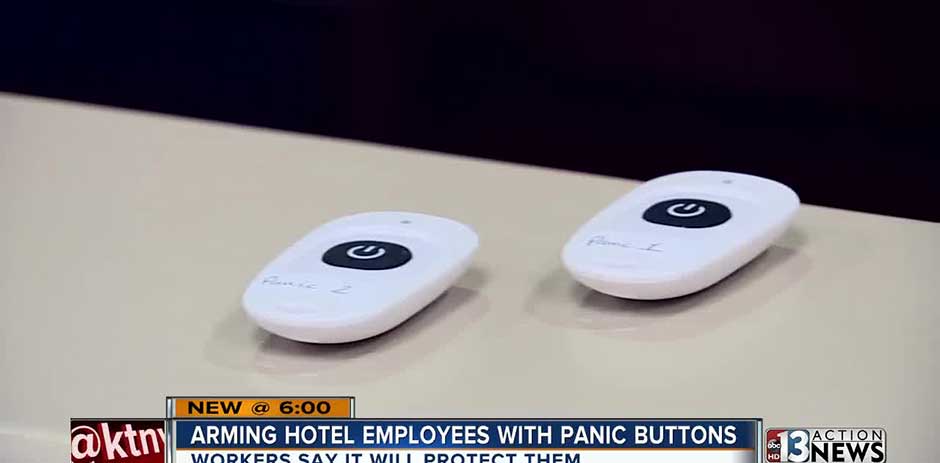 Two of the largest casinos in Las Vegas, Caesars Entertainment and MGM Resorts International, will soon be issuing its housekeepers, cocktail waitresses as well as other employees with panic buttons that will allow them to call for help in case they experience sexual harassment or abuse while on the job. This move follows the July 4 establishment of contracts for about 38,000 workers by the Culinary Workers Union Local 226, at the properties owned by the two casino operators.
According to a report by Fox 5 Vegas, the contracts "include language that requires panic buttons for workers like housekeepers who work alone in guest rooms and may be subjected to sexual harassment or other crimes."
An Extra Sense of Mind
These car remote sized panic buttons are gaining a lot of popularity in hotels as a tool to give their employees an extra sense of mind as they go about their work. In fact, a number of cities, including Washington D.C., Chicago and Seattle have gone as far as passing citywide mandates that require hotels and other similar entertainment facilities to provide their housekeepers with panic buttons.
"We are here to do our jobs and provide incredible, world-class customer service for our guests," MGM Grand housekeeper Maria Landeros said in a press release issued by the Culinary Union. "We are not here to be abused or have people think that just because it's Las Vegas, anything goes."
A recent survey carried out by the Culinary and Bartender unions revealed that 59 percent of cocktail servers and 27 percent of the hotel housekeepers have undergone at least one incident of sexual harassment by guests, their managers, and other people while on the job. The survey that involved the input of 10,000 workers further showed that 72 percent of cocktail servers and 53 percent of hotel housekeepers said that they had at in one or more instances felt unsafe due to actions of the guests in their workplaces.
"I was carrying a heavy tray full of drinks on the casino floor, and a high roller at the dice game grabbed me by the neck with both of his hands and forced me to kiss him for good luck," recounts Debra Jeffries, a cocktail server at Caesars Entertainment-owned Bally's. "I have permanent nerve damage from that incident and I live in pain every day."
The results of the survey prompted the unions to advocate for the proposed stronger safety protections to be included in the contracts they were negotiating for. The Culinary and Bartender unions managed to reach a tentative agreement with MGM Resorts Entertainment and Caesars Entertainment thus putting a citywide walkout after their contracts expired on May 31.
The new contract has language that calls for better and greater security measures including sexual harassment, workplace safety as well as issues that revolve around technology, immigration and subcontracting.