DraftKings and Caesars Ink New Deals With ESPN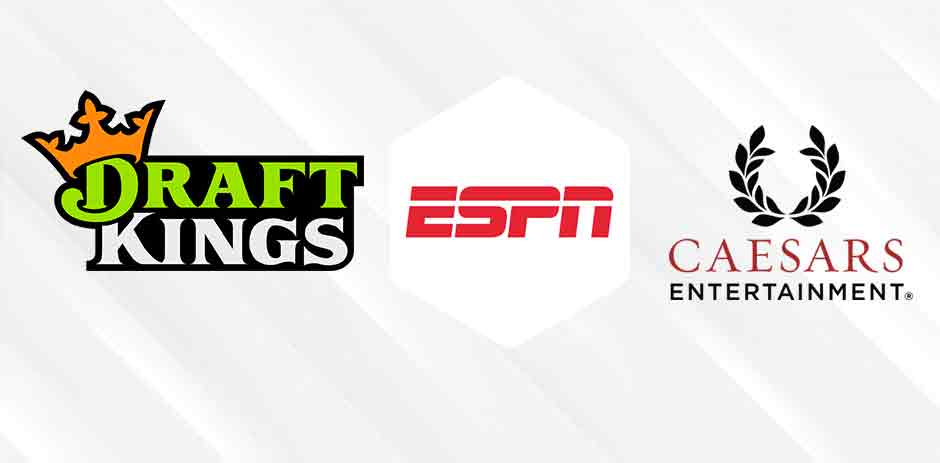 The world of sports betting is slowly beginning to get back on track after a long hiatus following the coronavirus pandemic. A number of developments including partnership deals are currently in the pipeline and one of the most notable ones so far is between ESPN and two of the biggest names in gambling.
ESPN has recently announced that it has built upon the existing partnerships that it had with Caesars Entertainment Inc. and DraftKings Inc. As per the term of the two deals, ESPN will be linking its very popular website to the sportsbooks that are operated by both DraftKings and William Hill which is Caesars Entertainment's sports betting partner. This deal will be implemented in a co-exclusive manner with all three companies set to benefit massively.
The Highlights
DraftKings now becomes the sports networks exclusive daily fantasy sports provider – it will be primarily responsible for powering all of the fantasy sports content that will be made available across a range of ESPN's very popular shows. Caesars Entertainment, on the other hand, has extended its relationship with the sports network and is now its exclusive supplier of odds across ESPN's television and digital programming.
All in all, both deals are a huge deal for both ESPN and the gaming companies. For the sports network, the move represents a significant milestone in their quest to diversify exposure and deepen their commitment to the growing US sports betting sector.
"We began growing the experience through content, followed by odds utilizing William Hill's sports betting data and a new state-of-the-art studio facility in Las Vegas through our deal with Caesars, and now with the addition of DraftKings, we are bringing together the sports media leader with two of the top brands and best products in the segment."

Mike Morrison, Vice President of Business Development & Innovation, ESPN.
ESPN has been aggressive in its pursuit of a piece of the sports betting market. The company has even launched an official betting YouTube channel which is even more proof of its dedication.
Share Prices Soar
Following the announcement of the new deals, the shares of prices of DraftKings and Caesars Entertainment rose by as much as 12 percent and 7 percent respectively on September 14. This is the second time that DraftKings shares are going up in value in the past month – the first time was when Michael Jordan invested in the company and became one of its advisers.
Generally speaking, the sports betting scene in the United States has proven to be very lucrative and therefore the surge in share price is expected. There is so much interest in the space especially from other popular sports media companies and networks including CBS Sports and Fox Sports.