ESPN, Caesars Entertainment Partner for Sports Betting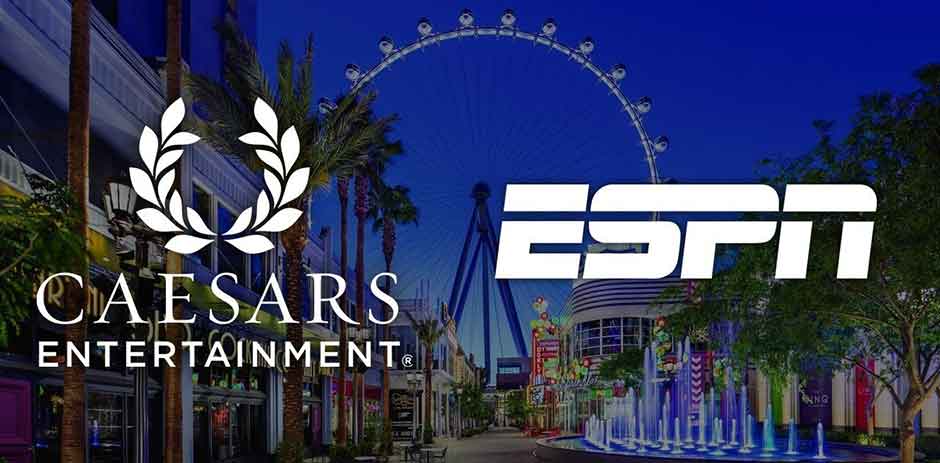 ESPN has announced a new partnership with renowned casino operator Caesars Entertainment in an effort to develop television programming for fans of sports betting. This marks the latest move by the broadcasting company to embrace the lucrative and rapidly growing sports betting market. As part of the partnership deal, the companies will set up a television studio inside The LINQ Hotel & Casino in Las Vegas – this studio will be used to produce the aforementioned television content for Daily Wager as well as other networks' programming.
The studio which is aimed a creating a "better foothold to serve sports fans interested in betting content" is expected to open in 2020 after which it will play a monumental role not just in betting-related segments in the state but also in the coverage of the increasing number of sports events that are being hosted in Las Vegas.
In addition to being the hub for ESPN's odds-related content when it opens next year, the studio is also set to host events during major sporting events in Las Vegas. Some of the ESPN betting-related content that viewers will be treated to include shows like "SportsCenter" and "Outside the Lines"
"We are poised to expand our coverage in a big way, and working with a category leader like Caesars Entertainment will help us serve these highly engaged, diverse sports fans with the best and most relevant content possible," Mike Morrison, VP, business development at ESPN said.
As expected, Caesars is set to reap quite a lot from the partnership. To begin with, the Las Vegas-based casino operator will have its odds data as well as its branding integrated with ESPN programs – this will allow the casino operator to capitalize on ESPN's massive sports audience. Just like most other television networks, ESPN sees legalized sports betting as a potential booster for live viewership especially in this day and age where many customers are opting for alternatives such as online streaming services.
With the new partnership in place, Caesars will also get to contribute to the programming on the ESPN network, on the ESPN app and online – the company's contribution to the programming is supposedly meant to "enlighten people who are betting on sports."
Caesar's Inks More Partnership Deals.
The ESPN partnership deal aside, Caesars Entertainment has also recently become the NFL's first-ever official casino partner – this will cost the casino operator about $30 million every year. Furthermore, as part of a market access agreement, the company also recently took an equity stake in DraftKings. Obviously, Caesars in aware of just how lucrative the sports betting market is and it working very hard to solidify its position as a leading operator in the space.