Preparations for Zurich iGaming Affiliate Conference in Full Throttle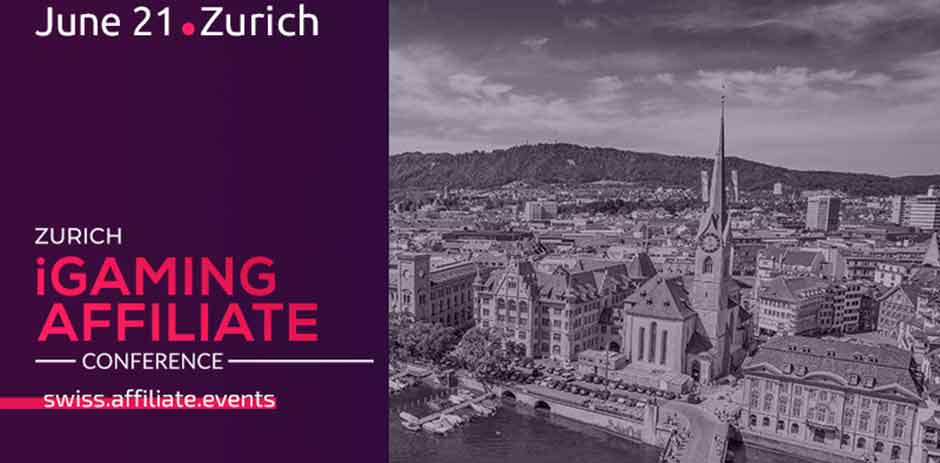 The very first Zurich iGaming Affiliate Conference is scheduled to go down on June 21, 2019. The event which will be coming just a couple of months after the Prague iGaming Affiliated Conference that was held in the Czech capital on April 18. Smile-Expo, the event organizer has also recently announced that the next iGaming Affiliate Conference will take place in Zurich, Sweden which is a continuation of having the events held at major European cities.
If you have not heard of Smile-Expo then it is worth noting that it is an international enterprise that has been conducting some very successful B2B events for over a decade. It is, therefore, more than qualified to take this on and you can expect the upcoming event to be just as big as all the others.
Warm Welcome for New Swiss Gaming Laws
Switzerland has only recently adopted new casino regulation (MGA law) and these new gambling regulations allow Swiss land-based gaming operators to expand their service to the online space. The licensed land-based casino operators will, however, need to extend their existing licenses with the Federal Council before they can begin offering online gambling products to Swiss gamers. As such, the iGaming affiliate conference aims to look into the legal side of online casino integration while at the same time discussing ways of promoting the country's gambling industry.
Some of the topics that will be discussed during the event include:
European market experience in online gambling
Creating and maintaining attractive online gambling offering.
Successful iGaming affiliate marketing.
A comparison between the gambling markets of Belgium and Switzerland.
Responsible gambling as the future of the industry.
Data protection and issues related to it.
In addition to the panel discussions, the conference will further feature special demo zone where some of the gaming companies in attendance will be given the opportunity to showcase some of their projects and ideas. This demo zone will also give the delegates room to "work with fellow industry representatives, get legal advice, discover the latest industry trends and innovations, share experience, and even find new business partners".
The List of Speakers
Smile-Expo has also recently announced that among the people that will be attending will be some of the industry's best executives, lawyers, content strategists, and gambling consultants. Some of the most notable speakers in the list include:
Chris Looney – Commercial Director at Red Tiger Gaming
Jack Symons – CEO at Gamban
Jakub Kolomičenko – Head of Legal Department at Endorphina
Clas Dahlen – Chief Brand and Strategy Officer at Metal Casino
Donal Barron – Head of Corporate Development at Banach Technology Ltd.
Simon Planzer – Partner at Planzer Law
Steve Donoughue – Gambling Consultant at The Elephant Eaters Club Limited
Iris Sidler – Strategic thinking legal counsel
Scott Longley – Content and editorial consultant at Clear Concise Media