DOJ Maintains Its Stand on Its Wire Act Reinterpretation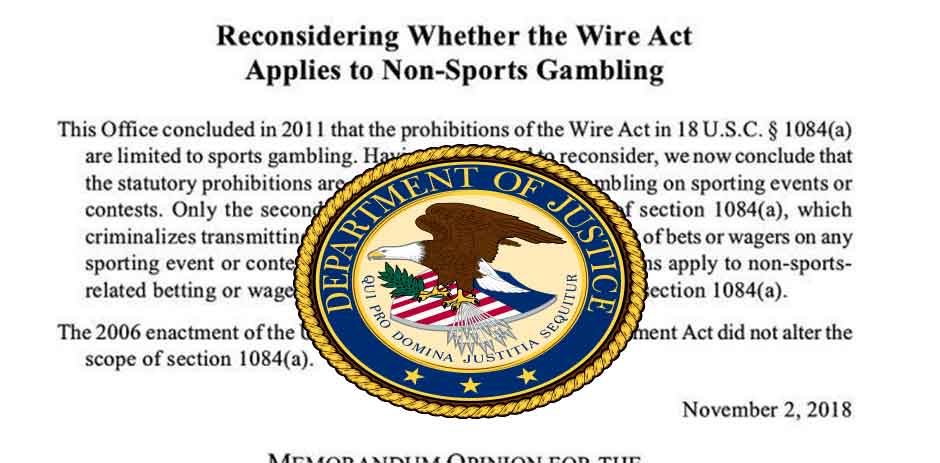 Last week, the United States Department of Justice officially filed the opening brief in its appeals of a federal court decision from earlier this year. The court ruling that is being appealed rejected the reinterpretation of the Wire Act by the department's judges at the end of 2018. The reinterpretation of the law significantly expanded the scope of the Wire Act – unlike the 2011 opinion, the revised November 2018 opinion covered more than just sports betting.
Unsurprisingly, this did not go too well. Even so, the Department of Justice was not willing to go down without a fight. The department dissatisfaction with the court ruling that sided with the New Hampshire Lottery Commission (NHLC) was rather obvious. This was simply because it effectively brought the federal government's plans to broaden the scope of the law to a halt.
In the opening brief that was filed on Friday, November 20, the department cited three main reasons why they want the recent court ruling on the matter to be reversed. These three arguments were:
The threat of prosecution to the plaintiffs is not imminent and credible.
The District Court was wrong in holding that the Wire Act only applies to sports betting.
The District Court was wrong to "set aside" the 2018 OLC memo.
Two Organizations Join In
As always, everyone expects anti-online gambling lobbyists to be hanging around in the shadows. Well, not anymore. Last Tuesday, the Coalition to Stop Internet Gambling and the National Association of Convenience Stores filed a joint amicus brief supporting the DOJ's appeal. In their brief, the two groups highlighted some of the negative impacts that they believe online gambling will have on the country.
Naturally, due to the alleged ties to top land-based casino tycoons, their involvement is quite suspect. Still, they might just be able to provide the necessary push for the DOJ's ambitions. Who knows?
What Next?
Now that the Department of Justice has already filed the opening brief for its appeal, the plaintiffs should be next to file their own brief. This should come in the next few weeks after which the appellants will be given another chance to respond. Former US Vice President Joe Biden who is the fourth current presidential candidate in the Democratic Party has taken the side of the NHLC. He is the fourth to weigh in on the issue which shows just how big of a deal it is. Brace yourself, 2020 is about to get very interesting.
It is also worth noting that the DOJ is pretty confident about the chances that its appeal will work out in its favor. In its recent announcement, the department stated that the compliance deadline that initially scheduled for the end of this year has been extended to June 30, 2020.